Time and again over the past 20 years, and usually irrespective of the trend in underlying steel demand, the HRB export price has changed direction about every six to 10 months. Since 2000, the HRB export price trend has reversed about 21 times, for an average duration of 10 months. Interestingly, since the HRB export price declined from the summer of 2018 until late 2018; hence, if by May 2019 there's no improvement, this would be a duration of about 11 months.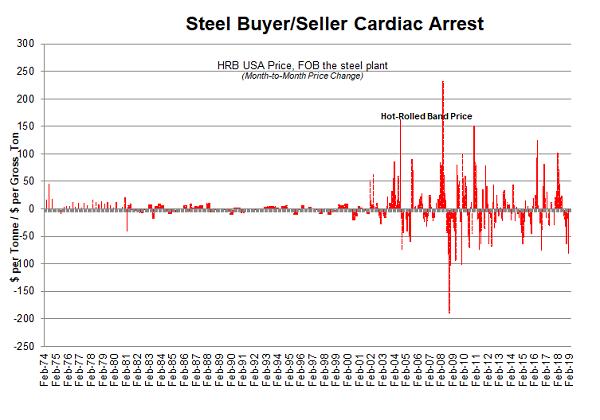 Products for which prices are highly volatile include prime scrap, obsolete scrap, iron ore, coking coal, metallurgical coal and commodity grade steel products.
Hence, given the regularity of swings in price direction, this is one of the reasons in January 2019 that we were forecasting a sizable rise in the HRB export price by about May 2019.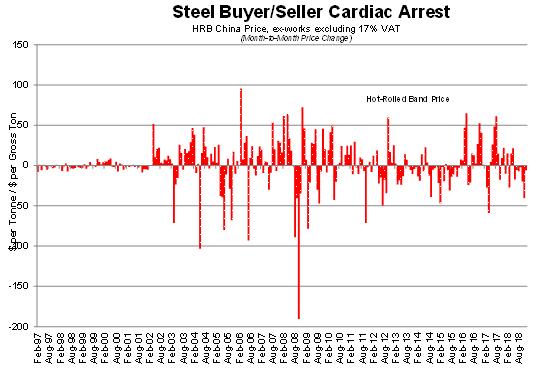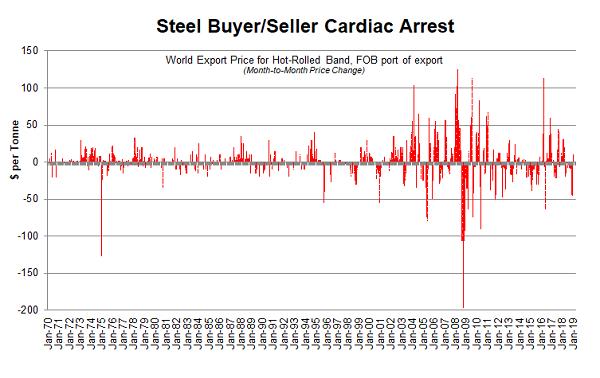 This report includes forward-looking statements that are based on current expectations about future events and are subject to uncertainties and factors relating to operations and the business environment, all of which are difficult to predict. Although we believe that the expectations reflected in our forward-looking statements are reasonable, they can be affected by inaccurate assumptions we might make or by known or unknown risks and uncertainties, including among other things, changes in prices, shifts in demand, variations in supply, movements in international currency, developments in technology, actions by governments and/or other factors.
The information contained in this report is based upon or derived from sources that are believed to be reliable; however, no representation is made that such information is accurate or complete in all material respects, and reliance upon such information as the basis for taking any action is neither authorized nor warranted. WSD does not solicit, and avoids receiving, non-public material information from its clients and contacts in the course of its business. The information that we publish in our reports and communicate to our clients is not based on material non-public information.
The officers, directors, employees or stockholders of World Steel Dynamics Inc. do not directly or indirectly hold securities of, or that are related to, one or more of the companies that are referred to herein. World Steel Dynamics Inc. may act as a consultant to, and/or sell its subscription services to, one or more of the companies mentioned in this report.
Copyright © 2019 by World Steel Dynamics Inc. all rights reserved