Tracking and estimating actual steel consumption is both an art and science. Consider the following:
Steel is a derived demand industry – i.e., steel is not consumed directly.
Steel buyers and users at times are often unexpectedly adding to, or subtracting from, their steel in inventory based on their perception on the availability of steel and the price outlook. The steel marketplace is never-ending psychological warfare – i.e., chess without checkmate – between buyers and steelmakers.
Perhaps 60% of steel demand ties into construction activity which is not reported on a unit basis. Hence, the construction figures, always reported in the home currency, need to be adjusted for inflation – which is an imprecise science.
Perhaps 25% of steel demand ties into capital spending, which is prone to violent swings over the business cycle.
The pace of steel demand growth is in part a function of the overall increase in economic activity. Once GDP growth expands more than 2-3% per year, a higher proportion of the economic expansion occurs in steel intensive sectors of the economy.
High oil prices promote substantial spending on energy projects, with these tending to be highly steel intensive.
In general, steel intensity – defined as steel consumption per point of GDP – tends to decline in periods of slow economic growth. Currently, in China so far in 2018, steel intensity has been far stronger than one would expect when assessing the weighted activity figures for steel-consuming industries.
Steel has one special feature that provides a strong insight into global steel demand – which is the World Steel Association's monthly report on steel production by country. Since much of the steel that's produced is based on the mills' orders, global steel production is a highly valuable indicator of underlying steel demand – after adjusting for seasonal factors, of course!
Currently, the global steel industry is in the midst of a production boom reflecting high prices. In June 2018, WSD is estimating that global steel production may be up 12% on a year-to-year basis.
For the United States, WSD generates each month a weighted index of activity in 15 steel-consuming industries (IDX).
The 15 items are aggregated into four sectors: a) capital equipment short-lead-time (CES); b) capital equipment long-lead time (CEL); c) consumer goods (CDIDX; and d) Miscellaneous (MIDX).
As of May 2018, for the first five months of the year, the IDX is up 3.4%, the CES is up 5.8%, the CEL us up 3.2%, the CDIDX is down 1.2% and the MIDX is unchanged. Please see the accompanying exhibit.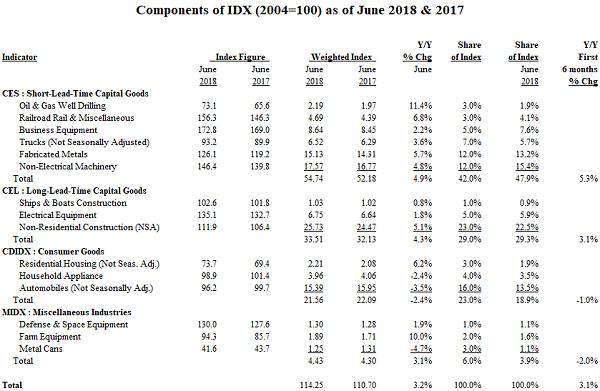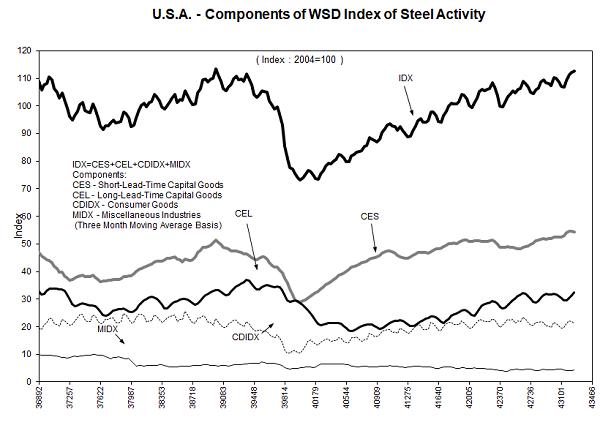 This report includes forward-looking statements that are based on current expectations about future events and are subject to uncertainties and factors relating to operations and the business environment, all of which are difficult to predict. Although we believe that the expectations reflected in our forward-looking statements are reasonable, they can be affected by inaccurate assumptions we might make or by known or unknown risks and uncertainties, including among other things, changes in prices, shifts in demand, variations in supply, movements in international currency, developments in technology, actions by governments and/or other factors.
The information contained in this report is based upon or derived from sources that are believed to be reliable; however, no representation is made that such information is accurate or complete in all material respects, and reliance upon such information as the basis for taking any action is neither authorized nor warranted. WSD does not solicit, and avoids receiving, non-public material information from its clients and contacts in the course of its business. The information that we publish in our reports and communicate to our clients is not based on material non-public information.
The officers, directors, employees or stockholders of World Steel Dynamics Inc. do not directly or indirectly hold securities of, or that are related to, one or more of the companies that are referred to herein. World Steel Dynamics Inc. may act as a consultant to, and/or sell its subscription services to, one or more of the companies mentioned in this report.
Copyright 2018 by World Steel Dynamics Inc. all rights reserved