High prices in China, especially for rebar after the H2 2017 capacity curb, have driven up Chinese steel output to unsustainable levels.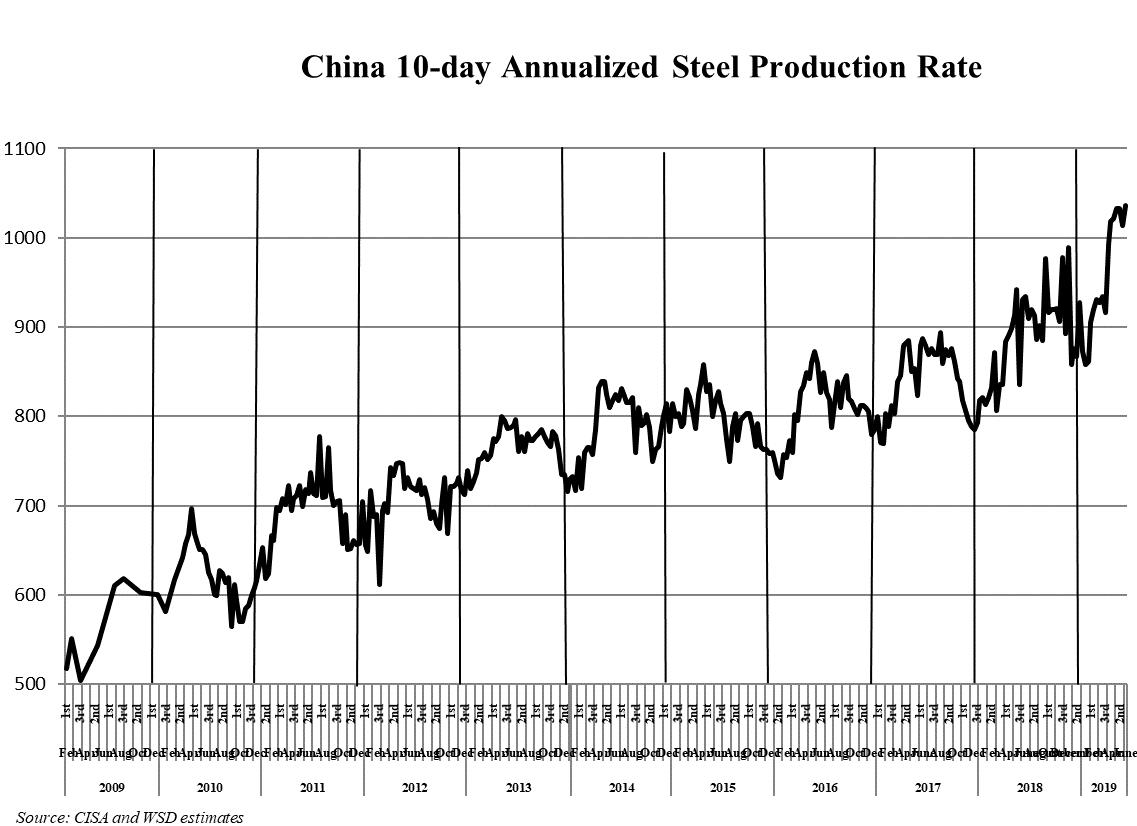 Key Chinese steel metrics
Capital spending by the Chinese steel industry: 2017 at $64.3 billion; 2018 at $71.2 billion; 2019 at $83 billion; 2020 at $90 billion. The 2019 figure is so elevated because profits have surged compared to lows in 2015 and sizable funds are being expended to move steel plants out of city centers in order to reduce air pollution and shift the land to other productive uses. Apart from the huge expense of moving steel plants out of city centers to new locations, a sizable number of new blast furnaces, EAFs and wide hot strip mills have been built the past three years.
Iron ore concentrate: Domestic production is estimated in 2017 at 255 million tonnes; 2018 at 240 million tonnes; 2019 at 255 million tonnes; and, 2020 at 250 million tonnes. In comparison, total concentrate usage in 2019, including iron ore pellet, will be about 1.4 billion tonnes. Sinter feed that's about 65% Fe is expensive to produce in China, with an average cost of perhaps $75 per tonne, because of the low grade of the iron ore in the ground – perhaps only 25-30% Fe in many cases. In comparison, the operating cost for sinter feed for the Big Four iron ore producers, prior to Vale's calamitous tailings dam collapse in Brazil, was only about $15 per tonne at the port of export.
Steel production: In 2017, it was 862 million tonnes and, in 2018 at 928 million tonnes. The forecast for 2019 is 965 million tonnes and, for 2020 at 1.0 billion tonnes. Production has surged in 2018 and 2019 even though net steel product exports are little changed. Note: In May 2019, Chinese steel production rose to an annual rate of 1.05 billion tones.
Blast furnace output: 2017 at 990 million tonnes and 2018 at 987 million tonnes. The forecast for 2019 at 984 million tonnes, and for 2020 is 978 million tonnes. There are roughly 700-800 blast furnaces in the industry, including many at small integrated mills that don't register in the official database.
Steelmaking gross capacity: 2017 at 1,135 million tonnes; 2018 at 1,132 million tonnes; 2018 at 1,123 million tonnes; and 2020 at 1,110 million tonnes.
EAF steelmaking capacity: 2017 at 110 million tonnes; 2018 at 125 million tonnes; 2019 at 144 million tonnes; and, 2020 at 153 million tonnes.
Wide hot strip mill capacity: 2017 at 252 million tonnes; 2018 at 263 million tonnes; 2019 at 265 million tonnes; and, 2020 at 265 million tonnes. Approximately 70-80 wide hot strip mills are operating.
China's air pollution controls will be even more strained if the country's GDP in the years to 2025 grows 5.0% per year, compounded. If so, in 6 years, the economy would be one-third larger.
About three months ago, WSD raised its Chinese steel production forecast for 2025 by 140 million tonnes to 900 million tones which compares to estimated steel production in 2019 of 965 million tonnes. We now think, in the period to 2025, rather than promoting gains in household spending, the Chinese government cannot let up greatly in its promotion of fixed asset investment as the primary upside driver of its economy because: a) it's difficult to promote household spending since it can't control consumer sentiment; and b) it's also a challenge to promote merchandise exports when, in fact, the country is losing export competitiveness.
This report includes forward-looking statements that are based on current expectations about future events and are subject to uncertainties and factors relating to operations and the business environment, all of which are difficult to predict. Although we believe that the expectations reflected in our forward-looking statements are reasonable, they can be affected by inaccurate assumptions we might make or by known or unknown risks and uncertainties, including among other things, changes in prices, shifts in demand, variations in supply, movements in international currency, developments in technology, actions by governments and/or other factors.
The information contained in this report is based upon or derived from sources that are believed to be reliable; however, no representation is made that such information is accurate or complete in all material respects, and reliance upon such information as the basis for taking any action is neither authorized nor warranted. WSD does not solicit, and avoids receiving, non-public material information from its clients and contacts in the course of its business. The information that we publish in our reports and communicate to our clients is not based on material non-public information.
The officers, directors, employees or stockholders of World Steel Dynamics Inc. do not directly or indirectly hold securities of, or that are related to, one or more of the companies that are referred to herein. World Steel Dynamics Inc. may act as a consultant to, and/or sell its subscription services to, one or more of the companies mentioned in this report.
Copyright 2019 by World Steel Dynamics Inc. all rights reserved